Recovery-World has one of the lowest S&H fees on the internet!   While it may seem to you that our S&H costs are high, our shipping and handling fees are half of what Hazelden charges, including many other recovery sites.
Please consider our costs:
1. Cost of Item
2. Shipping charge to us
3. Shipping charge to ship to you.
4. Taxes/Fees
5. Secure checkout cost/Credit card processing
6. Overhead
7. Packaging
This is why every retail site has to have a S&H charge unless, of course, they are related to Bill Gates.
Shipping and Handling Rates
$0.01 USD – $9.99 USD ———– $4.84 USD
$10.00 USD – $19.99 USD ———- $5.84 USD
$20.00 USD – $39.99 USD ———- $6.84 USD
$40.00 USD – $69.99 USD ———- $7.84 USD
$70.00 USD Up———————- $8.84 USD after this 25.00 flat
See "Shipping Info" tab for updated/most current rates

Recovery-World • 6091 Gordon Rd Waterford,Mi • 48327 • 248-247-8026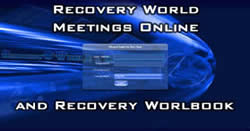 | | |
| --- | --- |
| 11 AM EST | A NEW BEGINNING |
| 3 PM EST | AFTERNOON AFFIRMATIONS |
| 6 PM EST | ATTITUDE ADJUSTMENT |
| 9 PM EST | AFFIRMING SOBRIETY |
| 4:30 PM EST SUNDAY | WOMEN'S ONLY MEETING |
| 4:30 PM EST SUNDAY | MEN'S ONLY MEETING |
| 7:30 PM EST THURSDAY | AL-ANON |
Privacy

We do not do email advertising (spam), nor do we buy sell or trade customer information. The only information we collect is what customers provide to process orders, and that is highly guarded and confidential! We value our customers as we want your business! John Stockton, Recovery-World.
Return Policy:
If for any reason you are dissatisfied with your purchase you may, within 30 days, return it for a full refund (except recorded media) of the product price. Items purchased have no warranty outside of this 30 days either expressed or implied. A 10% re-stocking fee may apply.
Shipping and Handling (shipping); in order to keep costs low, all items are sent USPS first class except; items weighing more than 13oz are sent 2-3 day priority. Express shipping is available at checkout.
Most often orders are shipped next day, otherwise processing may take up to five (5) business days. For engraving or custom jewelry allow up to 10 days for processing prior to shipment.
*NO RETURNS ON: Custom, Engraved or Recorded product(s)!